The next generation black box hydrographic survey single beam echo sounder.
CEEPULSE™ is an entry-level echo sounder with a difference. Using survey-quality components throughout, and programmed with the latest CEE HydroSystems advanced bottom tracking algorithm, its consistent and accurate results inspire confidence.
---
CEEPULSE™ is a legacy product. The CEE-LINE™ echo sounder has replaced this product.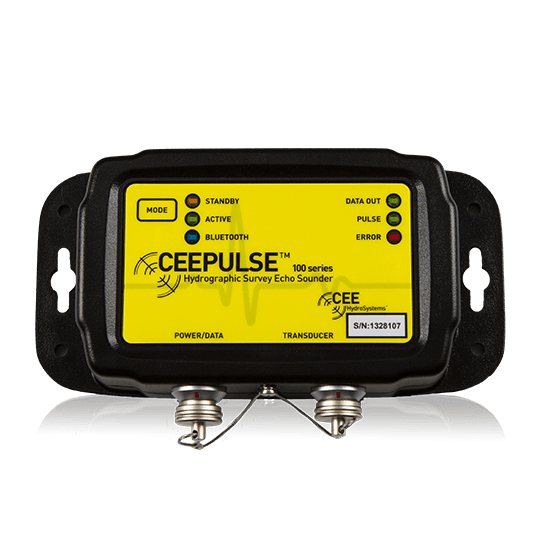 Incorporating many of the features available on larger echo sounders, the CEEPULSE™ is CEE HydroSystems' entry-level black box 200 kHz echo sounder designed for shallow water surveying. With soundings collected at up to 10 Hz using a standard or narrow beam survey grade transducer, bathymetry results are developed with a high degree of confidence.
LEARN MORE: 
The CEEPULSE™ can output soundings at up to 10 Hz, giving dense bottom coverage for the most trustworthy survey results available from a "black box" echo sounder. With some design elements shared with the advanced CEESCOPE™ echo sounder, the CEEPULSE™ robust bottom-tracking algorithm offers reliable and repeatable results where other similar echo sounders cannot. Compared to basic units operating at 1-2 Hz, the CEEPULSE™ requires far less compromise in data quality to obtain a simple bathymetry survey solution.
CEE HydroSystems' CEE CONNECT software offers a modern and intuitive way to communicate and configure the CEEPULSE™ echo sounder, making it simple to start collecting data. Simply establish a Bluetooth connection. Data are transmitted to a survey computer for acquisition using hydrographic software such as HYPACK®, QPS QINSy, Trimble HYDROPro, or Eye4Software Hydromagic. Data may also be directly transferred using the Bluetooth port to a hand held data collector such as the Trimble TSC2 or TSC3 for incorporation into a point measurements data file.
Using the same professional quality hydrographic survey transducers as used with full-size echo sounder systems, the CEEPULSE™ offers a true 0.3 – 100m (1 – 328ft) depth capability and 1cm resolution. With exceptional shallow water performance, the CEEPULSE™ is ideal for small boat inland water surveys.
The CEEPULSE™ offers trouble-free sounding data in shallow water, even as little as 30cm (12″). While some inexpensive single beam echo sounders claim to be able to provide bottom tracking in very shallow water, the CEEPULSE™ actually delivers. Watch the echo sounder trace at a 10Hz ping rate on CEE HydroSystems' CEEPULSE CONNECT setup utility, with simultaneous GoPro footage from behind the transducer.
| | | |
| --- | --- | --- |
| | | |
| 10Hz ping rate for high quality surveys | Powerful bottom tracking algorithm | 200 kHz standard or narrow beam |
| | | | |
| --- | --- | --- | --- |
| | | | |
| Indestructible construction | Bluetooth data telemetry | Waterproof sealed enclosure | Manual control of echo sounder settings |
| | |
| --- | --- |
| | Learn about the importance of a high echo sounder ping rate and why the 10 Hz ping rate of the CEEPULSE™ improves data quality compared to slower operating units or smart transducers HERE |
| | Learn about the basic equipment-related concepts of single beam hydrographic surveying, and what common processes are used to collect shallow water bathymetry HERE |
| | Read more useful technical articles in the Knowledge Base HERE |
The CEEPULSE™ may be interfaced with a hand-held data collector such as the Trimble TSC2 or TSC3 typically used for land surveying with a GNSS receiver. For small-scale hydrographic surveys the depth output of the CEEPULSE™ may be recorded by the data collector using software such as Trimble Access or Carlson. The depth value from the CEEPULSE™ at the time of each GNSS point shot is subtracted from the antenna elevation to give a bottom elevation and position. The CEEPULSE™ is simply paired and connected to a Bluetooth port of the data collector and configured as a "Depth Sounder", offering a straightforward and precise way to collect soundings without using any external PC or hydrographic software.

This step-by-step guide HERE shows you how to acquire CEEPULSE™ data using a Trimble TSC3 data collector. The depth output from the echo sounder may be easily incorporated into GNSS shots as a peripheral measurement and real time fully corrected bottom elevation may be recorded in the Trimble data file.
Physical

Dimensions
30.0 x 25.0 x 13.8 cm (L x W x D)
11.81" x 9.84" x 5.43"
Display
420 x 272 touch screen colour LCD
Weight
3.52 kg (7.7 lbs)
Colour
Yellow
Connectors
LEMO 1K & 2K Series, Industrial RJ45
Environmental

Operating temperature
0°C – 50°C (32°F – 122°F)
Humidity
95% non condensing
Ingress protection rating
IP67
Power
Power consumption
6.8 watts
Internal battery
Rechargeable high capacity NiMH battery 10Ah
Power supply
Nominal 12.0 VDC @ 2A (9-24 VDC range)
Wireless Connectivity
Bluetooth internal antenna
0 - 50 m range
Data Logging
Internal memory
16 GB (32 GB optional)
External memory
16 GB (32 GB optional)
Echosounder
Mode
Auto shallow, auto or manual
Frequency
High band: 190 kHz – 210 kHz
Low band: 30 kHz – 36 kHz (optional)
Output power
High: 200 kHz – 172 W RMS max
Low: 33 kHz – 172 W RMS max (optional)
Resolution
1 cm
Accuracy
0.01 m +/- 0.1% of depth @ 200 kHz
0.10 m +/- 0.1% of depth @ 33 kHz (optional)
Depth range - 100 series
0.15 – 200 m @ 200 kHz
Depth range - 200 series
0.15 – 200 m @ 200 kHz
0.75 – 200 m @ 33 kHz (optional)
Sound velocity
1350 – 1750 m/s
Resolution 1 m/s
Transducer draft setting
0 – 10 m (1 cm increments)
Index offset
0 – 10 m
Blanking
7 – 500 cm
Ping rate
1-20 Hertz
Pulse length
200 kHz 1-30 cycles
33 kHz 1-20 cycles (optional)
TVG
None, LOG 10, LOG 20
Manual gain
30 – 100%
Detection threshold
10 – 50%
External Data Interfaces
GNSS input
NMEA 0183
Heave input
TSS 1
Tide input
CEETIDE
| | | |
| --- | --- | --- |
| Parameters | General Surveys | Engineering Surveys |
| Frequency: | 200kHz | 200kHz |
| Beam Width @-3dB: | 9 deg | 3 deg |
| RMS Power | 500 W | 3 kW |
| Q: | 2 | 6.5 |
| Cable Length | 9 m (30 ft) | 10 m (33 ft) |
| Weight | 1.3 kg (3 lbs) | 5.5 kg (11.6 lbs) |
| Housing Material | Stainless Steel | Stainless Steel |
| Acoustic Window | Urethane | Urethane |
| Products | Transducer | Dimensions | Bracket | Assembled |
| --- | --- | --- | --- | --- |
| General Surveys | | | | |
| Engineering Surveys | | | | |
– How tough is the CEEPULSE™?
With a thick shell and components exceptionally well secured, the CEEPULSE™ is hard to damage.
– What is the maximum depth achievable?
100m with 200 kHz transducer.
– How do I connect the CEEPULSE™?
The transducer and power / data connections are the same as all other CEE HydroSystems echo sounders. The Y power / data cable terminates in a standard serial DB9 connector and a pigtail power cable.
– How is it powered?
Use any 12-24V DV supply.
– What is the data output?
The CEEPULSE™ can output common formats data such as DESO25, Odom SBT, NMEA0183.
– How is the echo sounder operated?
Power up and the sounder immediately starts pinging, with a power and data LED flashing once per ping.
– Do I need an acquisition PC?
Yes. The CEEPULSE™ does not log data.
– Is there a Bluetooth data output?
Yes. Input and output. The CEEPULSE™ can output Bluetooth data to a PC, tablet, or field data collector. To change the CEEPULSE™ settings, simply establish a Bluetooth connection and open the CEEPULSE CONNECT software portal.
– Can I change the echo sounder sonar settings if needed?
Yes. Using the CEEPULSE CONNECT software portal and RS232 cable or Bluetooth connection. Maximum depth, blanking distance, gain, pulse width, and detection threshold may be manually adjusted.
– Can I enter sound velocity (SV)?
Yes. This is entered using the software portal.
– Can I use my existing transducer?
Maybe. We can supply patch cables for some connector types.
– Can the CEEPULSE™ take in GPS?
No. The CEEPULSE™ is a standalone echo sounder.