Complete Hydrographic Software Package
HYPACK® software was developed by Coastal Oceanographics, subsequently renamed HYPACK; now a Xylem brand, HYPACK® is the most widely used hydrographic survey software package worldwide. With over 10,000 users undertaking shallow water single beam surveys, side scan search and recovery missions, sub bottom sediment profiling, advanced multibeam navigation surveys, or dredging surveys HYPACK software has the capabilities to manage the complete process from the survey to the finished product. Starting at data collection, close cooperation with equipment manufacturers generates specific equipment drivers that are available for the major types of equipment in use; a rigorous geodetic framework guarantees a precise representation of survey results in any coordinate system. Technical support and training are key ingredients to the success of HYPACK®; user training meetings are held regularly around the world and on-line and phone support is available for all registered users with an active maintenance plan. For single beam echo sounder and side scan surveys, several HYPACK products are available, each activated by a USB dongle containing a license file.
HYPACK® MAX:
Full software package offering survey planning through to final product, chart or TIN model generation.
HYPACK® LITE:
Survey planning and acquisition, data editing and XYZ export. For users who do not need final survey products generated in HYPACK®.
HYPACK® OFFICE:
Data editing and final product generation only.
HYPACK® SURVEY:
Survey planning and acquisition only, without data editing and final product generation.
Single Beam Data Acquisition and Processing with HYPACK®
Surveying with the CEE HydroSystems CEESCOPE™ and CEE ECHO™ using HYPACK software allows users to maximize the performance of these echo sounders with real time sounding quality control and advanced editing features to generate high quality end products.  HYPACK software is segmented into discrete modules for various constituent processes of the single beam survey.
---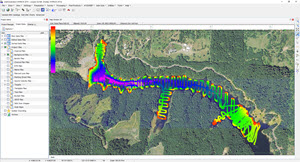 ---
HYPACK® SHELL: Survey Preparation
– Set geodetic parameters, background imagery, and RTK tides configuration (GNSS elevation).
– Set up equipment hardware and data communication.
– Plan survey lines.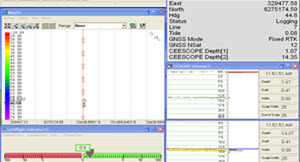 ---
HYPACK ® SURVEY: Data Acquisition and Survey Operations
– Real time bathymetry data display, GNSS parameters and bottom coverage indication.
– Detailed navigation map view with automatic data logging on pre-set line plans.
– Echo envelope display for detailed sonar imagery and quality control.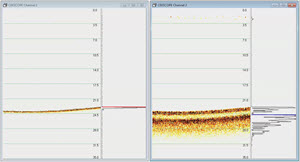 ---
HYPACK® SURVEY: Real Time Quality Control
– Dual channel echogram view to show full water column and sub bottom detail in real time.
– Manipulate sonar characteristics to achieve specific goals e.g. sub bottom tracking.
– Monitor echo sounder automatic bottom-following algorithm performance.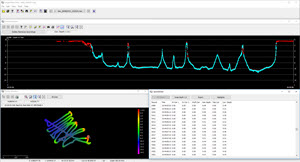 ---
HYPACK® SBMAX: Single Beam Data Editor
– Advanced sounding editor with efficient tools for fast editing and filtering.
– GNSS data substitution with post-processed precise results.
– Sound velocity and tide corrections.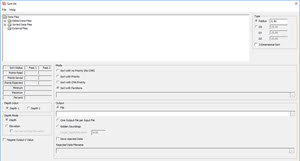 ---
HYPACK® SORT: Single Beam Data Thinning and Export
– Reduce data volume from raw / edited soundings to user-defined point spacing.
– Generate high and low frequency datasets.
– Export XYZ point clouds.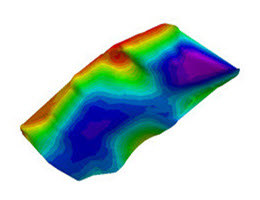 ---
HYPACK® Final Products: 
– TIN model and bathymetric chart generation and output.
– Cross sections and volume calculations.
– Export multiple output formats.
Using The CEESCOPE™ and CEE ECHO™ With HYPACK Software
When using HYPACK software, the proprietary "CEE" output format is available to allow collection of the most precise and detailed sounding results in combination with the dedicated CEESCOPE.DLL echo sounder driver. The benefits of using the CEE proprietary data output instead of a standard single or dual frequency driver (eg. Odom SBT / DBT or Atlas DESO 25) are significant:
– The full water column echogram is recorded as a binary (BIN) file in addition to the digitized RAW sounding data file.
– The time stamp inserted into all position and depth data packets in the echo sounder is used for precise measurement timing instead of PC time, minimizing latency and maximizing accuracy. This feature is particularly beneficial for operation on board remotely operated or autonomous USVs where data may be telemetered to the shore over a radio link and latency concerns are significantly higher than in conventional survey boat applications.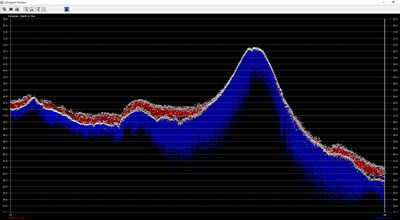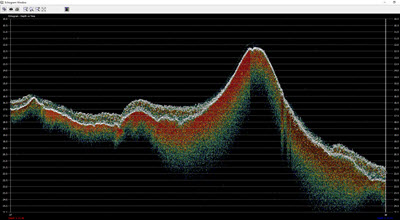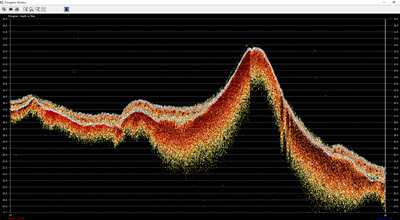 CEE HydroSystems HYPACK Software Support
When HYPACK® software is purchased with a CEE HydroSystems echo sounder, technical support staff are on hand for startup training, technical support and troubleshooting. Whether you are new to hydrographic surveying or simply new to CEE HydroSystems, we place significant emphasis on making sure both hardware and software are getting the job done.
---