SHALLOW WATER SURVEY NEWS
News articles, press releases, customer stories and product updates
CEE HydroSystems shallow water survey news is a useful resource for hydrographic survey-related information and specifically single beam echo sounder surveys in shallow water. If you have any news related to CEE HydroSystems equipment being used on surveys around the world then please contact us. We would greatly appreciate the chance to pass on news of survey activities in varied and interesting environments. If you have managed to solve a survey problem with an innovative approach, or constructed a custom survey platform, vessel, or installation then we are particularly keen to find out about it. In addition you will be able to see news updates relating to our hydrographic survey equipment and ancillary devices such as echo sounders, tide gauges, sound velocity profilers, and hydrographic software. If we come across useful software tips for HYPACK® or Eye4Software Hydromagic then we will include them to allow for future referencing as appropriate.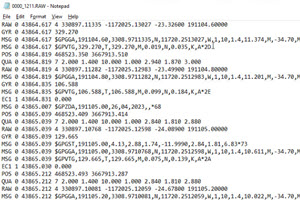 Critical HYPACK Driver Changes for CEESCOPE™ and CEE ECHO™ for 2022 Release.
For the 2022 release, HYPACK changed the handling of the "User Modified NMEA Messages" incorporating the CEE "POS" time stamp in the standard GPS-NMEA driver. The change caused some previous CEE setup procedures often used on versions up to 2022 to become invalid. New setup guides are available in the CEE Knowledge Base HERE and it is strongly recommended that you confirm your HYPACK driver setup is correct by following the test procedure HERE.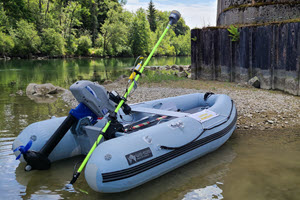 CEE-LINE™ Offers Reliable and Repeatable Shallow Water Surveys.
In Germany, surveyors at Consulting Engineers Saam LLC were looking for a simple and reliable echo sounder for their Trimble total station S7 and GNSS setup. Often working around bridges, they had tried a few different "pole mounted" sounders without finding a reliable solution. The CEE LINE kit was a great discovery according to the new users: "Only a low number of artifacts (mostly when quite shallow), very fine! I'm very happy finally having found a reliable equipment for water surveying, thanks to
you!". The all-electric inflatable boat worked well with the CEE-LINE™ transducer mounting assembly.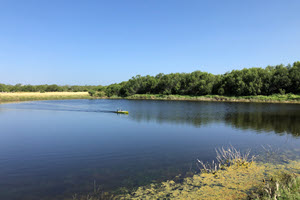 Barr Engineering and Select Water Solutions Replace Old Timer USVs.
Back in 2012-13, CEE's Adrian McDonald - before working for CEE - provided Barr Engineering (MN, USA) and Select Water Solutions (TX, USA) with USVs both incorporating CEE echo sounders. These vehicles were maintained in service for a decade, but in July 2023 they finally because unserviceable and were replaced with the top-spec CEE-USV. With a fully integrated RTK GNSS and advanced autopilot managed entirely in Hydromagic, the new system offers a next generation step forward for the surveyors, ending the long hours of manual controlled surveys!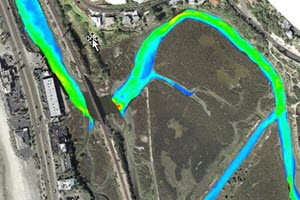 Coastal Frontiers Corporation use CEE ECHO™ for Lagoon Restoration Project.
The CEE ECHO™ is designed to operate in very shallow water and will still provide consistent data when the survey boat is barely above the bottom. In a major California lagoon restoration project, Coastal Frontiers' new CEE ECHO™ was put to the test. Purchased specifically for the project, the CEE ECHO™ was used on manned and unmanned boat surveys most of which were under 4ft (1.2m) deep. Learn more by reading the CASE HISTORY HERE.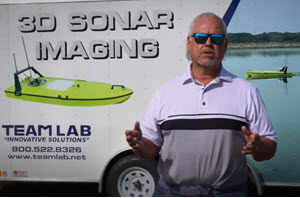 Minnesota, USA Firm TEAM LAB Conduct 130 CEE-USV™ Wastewater Surveys each Year.
Wastewater lagoons throughout Minnesota and surrounding states are more likely to see a CEE-USV™ in action now that TEAM LAB Chemical's unmanned bathymetry program is in full swing. With an annual monitoring program designed to report the quantity of sludge accumulated in lagoons, TEAM LAB implemented a manned and unmanned survey program for comprehensive data on effluent lagoon performance. The firm also supply biological treatment "bug" programs to digest the organic matter in the sludge, and the USV is used to track the effectiveness of these treatments. Learn more by reading the CASE HISTORY HERE. To see the program in action watch the video HERE.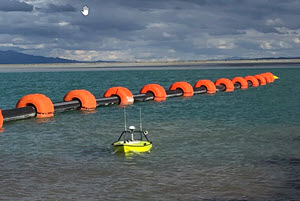 CEE HydroSystems USA Complete Contract Tailings Impoundment Survey.
Usually we leave the surveying to our customers however in late 2022 CEE USA were called on to complete a one-off survey of a large tailings impoundment in the Southwest USA. The survey proved to be a great example of how to complete a tailings survey "on the fly". Little information about the impoundment extents was available prior to the survey and so the survey plan was drawn up on the job. Read more about how the survey was completed HERE.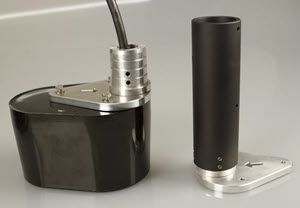 New Wide Band Echo Sounder Control Boards for 2023 CEESCOPE™ and CEE ECHO™
From 2023, new CEE echo sounders will be shipping without the need to first define either a 24kHz or 33kHz selected low frequency channel. Our new wide band low frequency echo sounder control electronics means both 33kHz and 24kHz transducers may now be used interchangeably. Transducer selection can be slightly confusing for newcomers to hydrographic surveying; transducer considerations are explained in addition to more details about this useful new design feature HERE.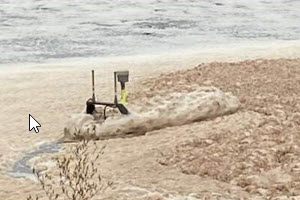 The Filthiest CEE-USV™ Survey Ever?
The picture of the CEE-USV™ in action with Oregon, USA based AKS Engineering & Forestry LLC tells the story. In order to prevent employee exposure to unknown and unmentionable material floating on the water surface in a system of wastewater lagoons they were contracted to survey, the firms CEE-USV™ was drafted in to take the punishment. To see the full extent of the survey challenge read more HERE.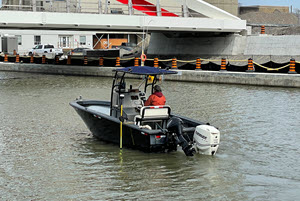 Upgrading Capabilities - Canadian Marine Surveyors Lani Maritime get to Work with CEE ECHO­™
After joining the market providing hydrographic survey services with an entry level echo sounder, Lani Maritime's initial experiences showed that just because a manufacturer may claim "survey grade" this does not guarantee survey grade results. After determining that there was room for improvement in their hydrographic offering to clients, Lani Principal Chris Kirby took the plunge and replaced his still fairly new echo sounder with the CEE ECHO™. Mindful of the improvements needed in the quality of the survey product presented to clients, the CEE ECHO™ was selected to improve both data consistency and quality control. To learn more about the transition and what Chris had to say about his equipment read more HERE.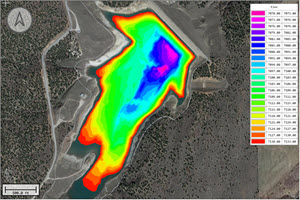 Hydromagic Version 10 Released with NEW CEE Training Videos Now Available.
With new editing tools to facilitate faster editing of single beam data, and more features for CEE-USV™ unmanned boat operation, Hydromagic acquisition software VERSION 10 is available for download on the Eye4Software web site HERE. Owing to the cumulative addition of features and improvement of data processing since the original set of CEE training videos recorded for Hydromagic, the time has come to re-record the videos. So, a new set of dedicated Hydromagic training videos for Version 10 are available for CEE customers. CONTACT US to get the videos.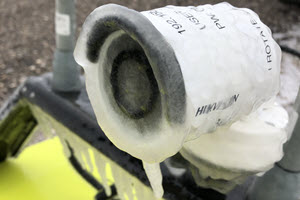 Unseasonal Surveying in Midwestern USA with the CEE-USV™.
Surveying with the CEE-USV™ at a temperature of 25F (-4C) might not sound too extreme, however when mixed with winds of 25mph gusting to 35-45mph a challenging survey environment is created. In East Grand Forks, Minnesota USA, surveying started early in the season on a medium size effluent lagoon. With ice almost immediately forming on all the equipment owing to the spray and waves, the survey still proceeded without issue. However, maintaining the USV on the survey line was a lot trickier than usual with the extreme wind gusts. Although it was fortunate the on-board camera was not required as the lens was quickly coated with ice! To see the details of this survey, read the NEW CASE HISTORY and watch the video HERE.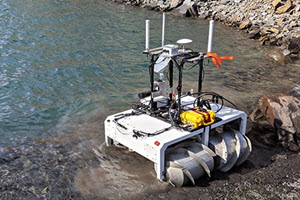 CEE ECHO™ Used on Copperstone Technologies' Remarkable HELIX Robot.
Canadian robotics firm Copperstone Technologies developed an unusual "all terrain" mining survey vehicle using a type of Archimedes Screw propulsion. The HELIX robot is able to traverse dry land, wet tailings, and water thanks to its four independent screws. HELIX can provide survey data in areas that might be inaccessible to manned or unmanned boats. As a result of CEE's extensive experience in mine surveying and exceptional shallow water surveying performance, Copperstone chose the dual frequency CEE ECHO™ to provide bathymetry survey capability on board HELIX. The 33/200kHz transducer can even be raised and lowered for tricky terrain. Curious Fact: Modern day propellers on ships can all trace their origins to the type of screw technology used on the HELIX robot. To learn more, read the CASE HISTORY HERE.