SHALLOW WATER SURVEY NEWS
News articles, press releases, customer stories and product updates
CEE HydroSystems shallow water survey news is a useful resource for hydrographic survey-related information and specifically single beam echo sounder surveys in shallow water. If you have any news related to CEE HydroSystems equipment being used on surveys around the world then please contact us. We would greatly appreciate the chance to pass on news of survey activities in varied and interesting environments. If you have managed to solve a survey problem with an innovative approach, or constructed a custom survey platform, vessel, or installation then we are particularly keen to find out about it. In addition you will be able to see news updates relating to our hydrographic survey equipment and ancillary devices such as echo sounders, tide gauges, sound velocity profilers, and hydrographic software. If we come across useful software tips for HYPACK® or Eye4Software Hydromagic then we will include them to allow for future referencing as appropriate.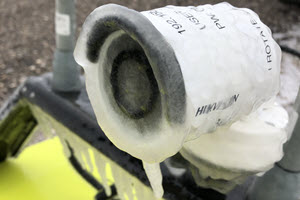 Unseasonal Surveying in Midwestern USA with the CEE-USV™.
Surveying with the CEE-USV™ at a temperature of 25F (-4C) might not sound too extreme, however when mixed with winds of 25mph gusting to 35-45mph a challenging survey environment is created. In East Grand Forks, Minnesota USA, surveying started early in the season on a medium size effluent lagoon. With ice almost immediately forming on all the equipment owing to the spray and waves, the survey still proceeded without issue. However, maintaining the USV on the survey line was a lot trickier than usual with the extreme wind gusts. Although it was fortunate the on-board camera was not required as the lens was quickly coated with ice! To see the details of this survey, stand by for the NEW CASE HISTORY coming soon or watch the video HERE.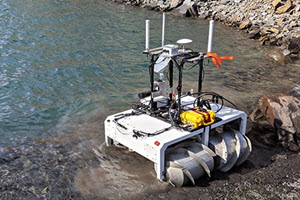 CEE ECHO™ Used on Copperstone Technologies' Remarkable HELIX Robot.
Canadian robotics firm Copperstone Technologies developed an unusual "all terrain" mining survey vehicle using a type of Archimedes Screw propulsion. The HELIX robot is able to traverse dry land, wet tailings, and water thanks to its four independent screws. HELIX can provide survey data in areas that might be inaccessible to manned or unmanned boats. As a result of CEE's extensive experience in mine surveying and exceptional shallow water surveying performance, Copperstone chose the dual frequency CEE ECHO™ to provide bathymetry survey capability on board HELIX. The 33/200kHz transducer can even be raised and lowered for tricky terrain. Curious Fact: Modern day propellers on ships can all trace their origins to the type of screw technology used on the HELIX robot. To learn more, read the CASE HISTORY HERE.