Innovative Echo Sounders for Shallow Water Hydrographic Survey Bathymetry
---
CEE HydroSystems are a manufacturer of high quality hydrographic survey single beam echo sounders, with a focus on shallow water surveying from small boats or personal watercraft. CEE HydroSystems offer products aimed to streamline the survey process and offer the simplest, easiest, and fastest way to get the job done.
By selecting only the highest performing, top quality modern electronics components, CEE HydroSystems' echo sounders lead the industry in specifications achievable in a compact and portable package.
With offices in Sydney, Australia and San Diego, USA contact us to discuss your survey requirements. We are ready to help with echo sounder solutions for your river, lake, pond, reservoir, estuary, surf-zone, or coastal ocean bathymetry survey challenges.
---
Next Generation GNSS pole-mounted survey echo sounder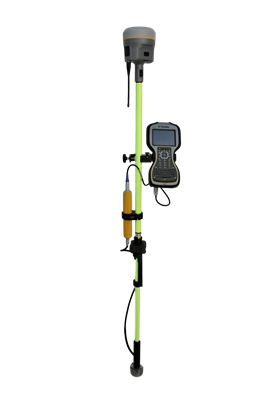 ---
---
State of the art portable echo sounder with advanced capabilities in a truly compact package.
---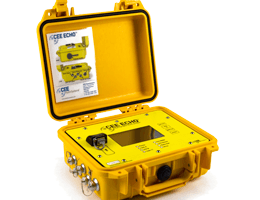 ---
---
CEE-USV™ Robotic Reservoir Surveys
---
To evaluate reservoir capacity, greatly impacted by ongoing drought conditions in the western USA, Utah surveyors Jones & DeMille used the CEE-USV™ for awesome "hands free" bathymetry surveys where manned boat access was not permitted. To find out how the USV was used in these surveys LEARN MORE HERE.
---
CEE-USV™ Icy Test in the Midwest
---
The 2022 survey season in the northern US state of Minnesota started early for wastewater bathymetry projects near East Grand Forks. With strong winds and icing conditions, a real challenge was presented. To learn more about the project and watch the USV in action, READ THE CASE HISTORY HERE.
---
CEE ECHO™ Used on HELIX Robot
---
Canadian robotics firm Copperstone Technologies manufacture unusual "all terrain" robots principally used for surveying and sampling mine tailings impoundments. The unique screw propulsion allows the robots to traverse practically any terrain, particularly soft mud that is impassable for other vehicles. For bathymetry duties, the CEE ECHO™ is incorporated into the package. To learn more READ THE CASE HISTORY HERE.
CEE USV – Action in Alaska
Can You Mobilize Like This?
CEE USV – Action in Alaska
Can You Mobilize Like This?
CEE USV – Action in Alaska
---
Can You Mobilize Like This?