---
The Next Generation remotely-operated hydrographic survey boat with unmatched usability, exceptional design, survey-grade construction and high quality instrumentation.
CEE-USV™ is a state of the art, high-performance survey boat incorporating a single beam echo sounder, GNSS positioning, live video, and on-board data management. A high bandwidth radio link to the dedicated CEE-LINK™ shore station allows the operator to see precise bathymetric survey results in real time.
---
---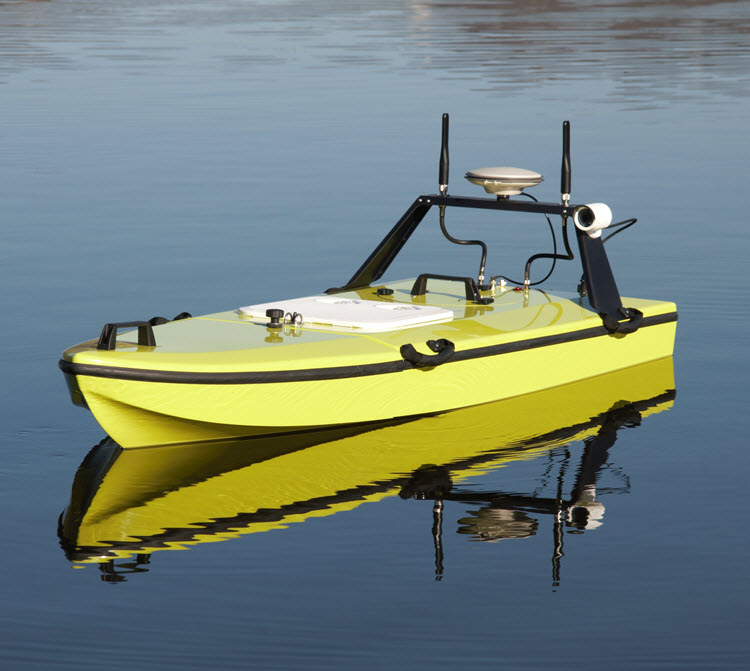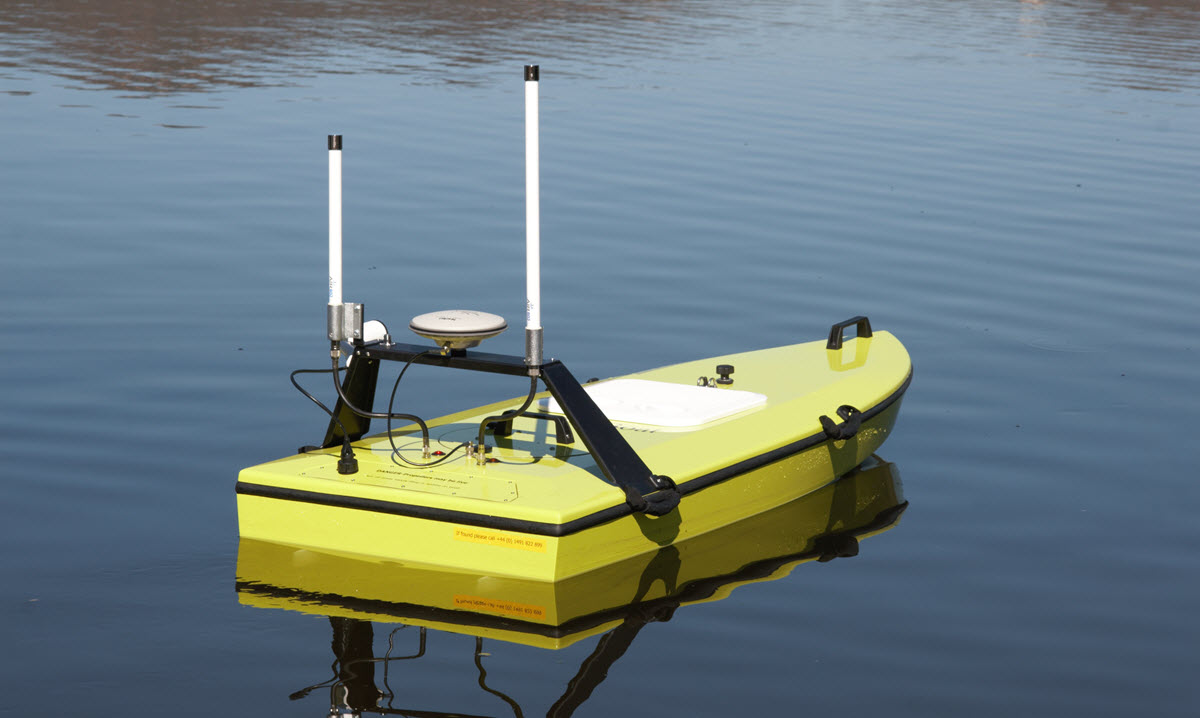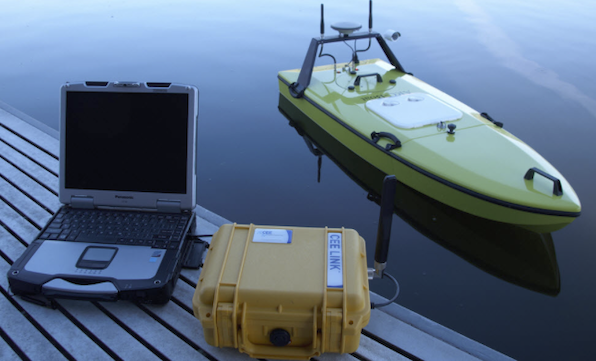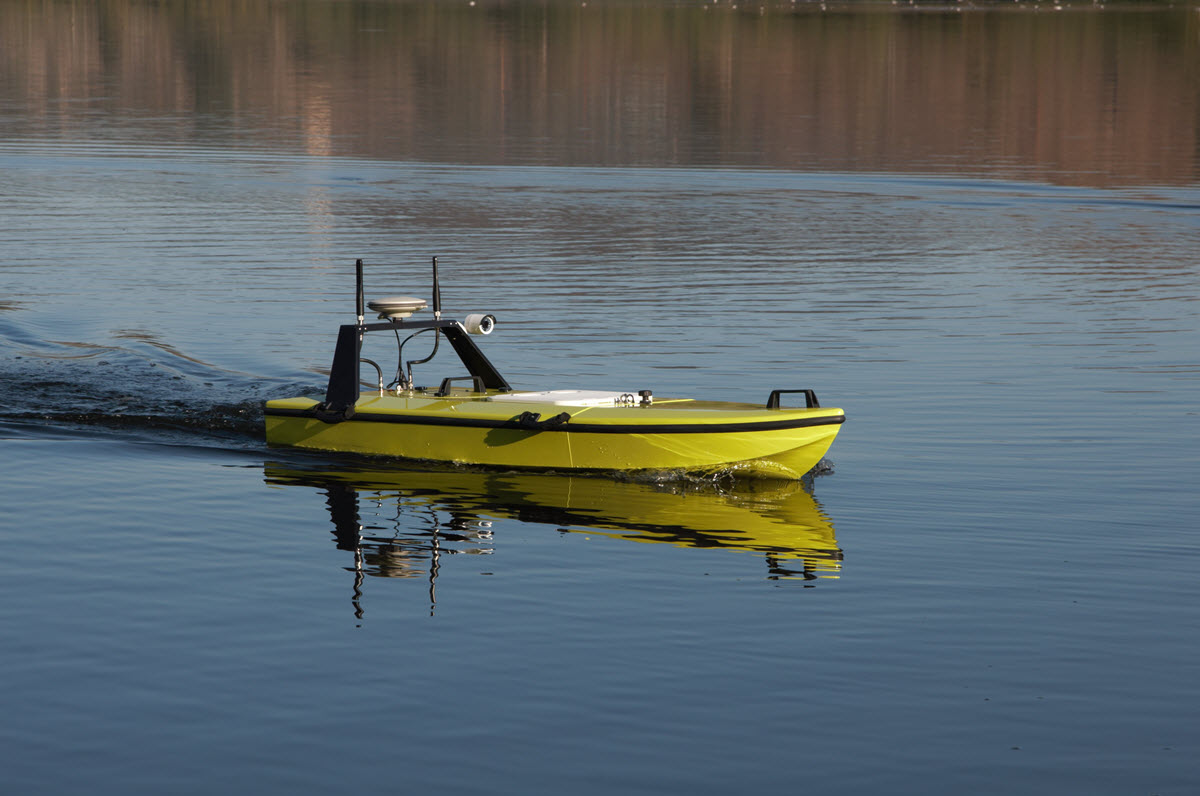 Since 2011, CEE HydroSystems has been working with USVs and recognised the challenges users face. Multiple on-board components and numerous critical data communication settings present a significant risk of downtime through equipment setup issues. The CEE-USV™ is designed to eliminate these challenges. The unique CEE echo sounder technology reduces the potential for field problems: all components are integrated and installed in a single enclosure, simply turn on the power and start surveying – even when using a local RTK base station. The removable echo sounder and positioning system is fully interchangeable for manned boat surveys.
With a network (Ethernet) data link accessible through a shore laptop internal WiFi or the dedicated long range CEE-LINK™ shore radio module, data telemetry requires no user management. As soon as the USV data module is powered-up, the survey data are ready on the shore for acquisition. For security and flexibility, all survey data – position, bathymetry, and quality control information – are recorded on-board for complete redundancy, ready to be directly imported into survey software as needed.
With the CEE-PILOT™ robotic control module, bathymetric surveys can be completed with spectacular line-following results for premium survey deliverable accuracy and credibility. The integrated CEE-USV™ is simultaneously the most advanced and easiest-to-use remotely-operated single beam survey boat on the market.
---
---
FIELD APPLICATION VIDEOS:
CEE-PILOT AUTONOMOUS CONTROL
Developed in partnership with marine autopilot specialists Dynautics Ltd, the CEE-PILOT™ navigation module offers a powerful upgrade for the CEE-USV™. With CEE-PILOT™ enabled, the vehicle can follow predefined line plans or travel to waypoints with spectacular accuracy. Ideal for repeating surveys or covering large areas, bathymetry results from an autopiloted survey are at the peak of what is achievable. Critically, there is NO REQUIREMENT for a remote PC on the vehicle and NO EXTRA SOFTWARE, maintaining the industry-leading usability of the CEE-USV™.
| | | | | | |
| --- | --- | --- | --- | --- | --- |
| | | | | | |
| 20Hz ping rate for high quality survey results | 3200 samples high definition echogram | Dual frequency capable | Precise 1PPS time-tagged data | Internal or external GPS input | Built-in telemetry |
ADCP APPLICATIONS FOR HYDROLOGY
The ARC-Boat, manufactured by HR Wallingford is a capable instrument platform that may be used for deployment of various sensor types in addition to, or in place of the single beam sonar and GPS package installed on the CEE-USV™. The ARC-Boat was initially designed as an acoustic Doppler current profiler (ADCP) platform, specifically for the purpose of making safe unmanned measurements of river discharge or stream flow. Instead of using a manned boat or deploying a tethered boat from a bridge, using an unmanned boat offers significant advantages in safety and data quality. The ARC-Boat (and CEE-USV™) is designed to accommodate all of the ADCP types in use for stream gauging activities.
---