NEAR SHORE SURF ZONE HYDROGRAPHIC SURVEYING
Personal watercraft single beam hydrographic survey system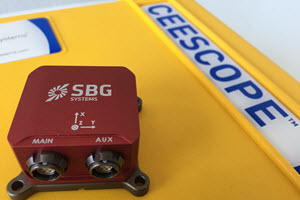 Complete PWC survey instrumentation package.
Surf Zone Single Beam Hydrographic Surveying
Collecting bathymetry near shore, inside or close to the surf zone is a hazardous process. Sometimes it is not possible to collect survey data at all in this environment. The surveyor can wade out a certain distance from the shore with a GPS and range pole; this is a laborious process only suitable for covering small areas and is very time intensive. A manned survey boat can come as close to the shore as its size and draft permits so is usually not appropriate for surf zone hydrographic surveying; for safety reasons it would have to stay a safe distance from anywhere where there is a chance of breaking waves.
A solution to the problem of obtaining bathymetric survey data in the surf zone is by using a personal watercraft (PWC) such as a Jet Ski suitably equipped with survey equipment. To operate reliably in this harsh environment, it is critical that any hydrographic installation is exactly designed for the job and thoroughly tested in the field. CEE HydroSystems have designed a custom turnkey single beam echo sounder and GNSS system for personal watercraft. This package offers surveyors a hydrographic survey vehicle that is a reliable solution for surf zone bathymetry mapping. With a fully-integrated RTK GNSS and single beam echo sounder system in a small form-factor enclosure, the PWC watertight compartment is converted into a data acquisition hub. An on-board computer and UHF radio modem are installed in addition to the echo sounder and GPS. Custom GNSS antenna and echo sounder transducer mounts are fabricated for a resilient and professional solution. All survey data are displayed on a waterproof sunlight viewable display, allowing the operator to follow survey lines and run the survey just like on a regular survey vessel. Only components of exceptional quality and ruggedness were selected for the unique challenge of surf zone hydrographic surveying.