---
---
The 'all in one' portable single beam echo sounder and GPS survey solution for any boat anywhere.
CEESCOPE™ is a state of the art portable hydrographic surveying system with advanced capabilities in a truly compact package. Coupling powerful built-in RTK GNSS with a survey grade echo sounder in a single waterproof enclosure, it represents the ultimate in shallow water single beam survey systems.
---
---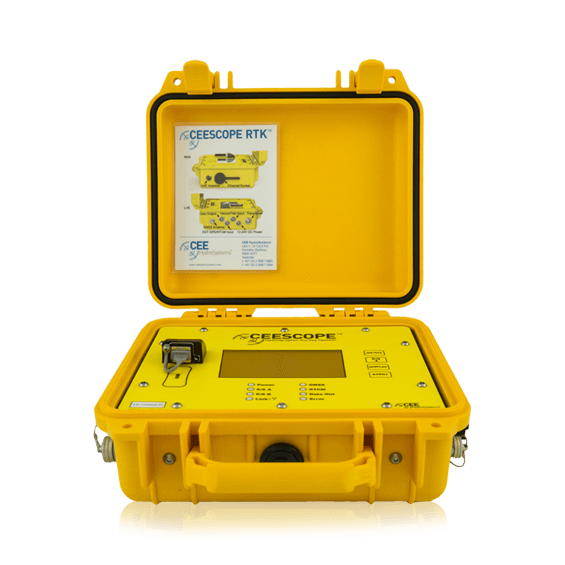 Survey grade echo sounder data including a full water column echo envelope are combined with GNSS position in a simplified and easy to use one-box solution for hydrographic surveying. On-board GNSS receiver options from Trimble, Hemisphere, and NovAtel provide flexibility to meet varying survey and budget requirements. The CEESCOPE™ RTK includes a built-in RTK GNSS and UHF radio modem, allowing incorporation into existing RTK base station networks with no additional hardware on the survey boat.
LEARN MORE: 
The CEE ECHO™ and CEESCOPE™ echo sounders can log soundings at up to 20 Hz, providing exceptional bottom detail along the survey track. In addition to the sounding depth output, the complete sonar echo return from each ping is digitized into 3200 separate and discrete values from just below the surface to the sub-bottom level. The intensity of the echo return from the entire water column and sub-bottom is recorded, not just the single sounding depth value for each ping. When it comes to reviewing data quality in real time and after the survey is completed, the echogram record presents a crucial advantage over basic echo sounders that output only the digital depth sounding value. For example, heavy bottom vegetation may be identified on the echogram and differentiated from the true bottom, a process that may be impossible with a basic echo sounder.
Top Images:        Heavy sub-aquatic vegetation. Recorded in HYPACK® with a single frequency 200 kHz transducer.
Bottom Image:   Sediment deposited behind a submerged wall. Recorded in HYPACK® with a dual frequency 33/200 kHz transducer.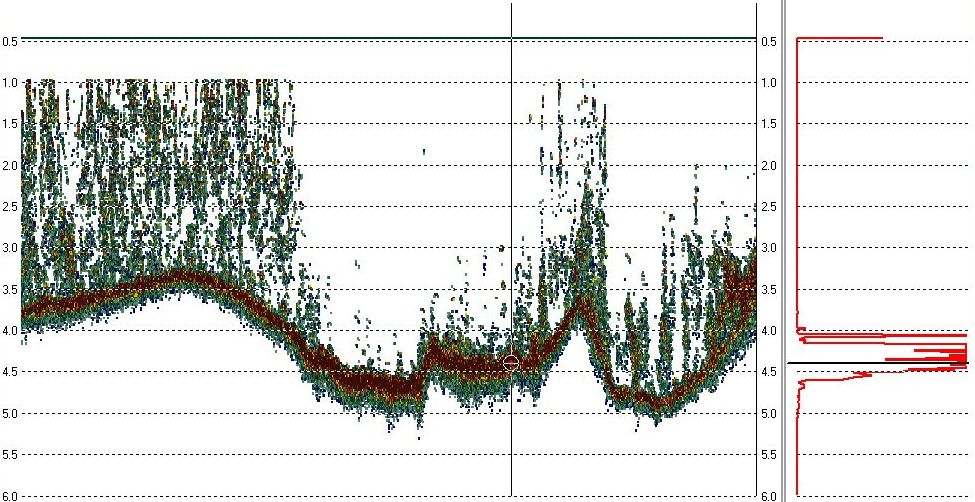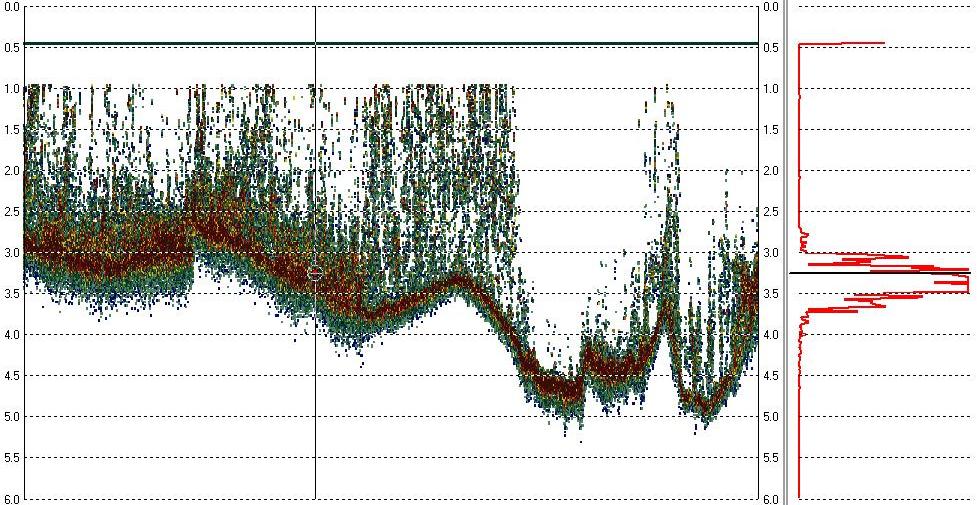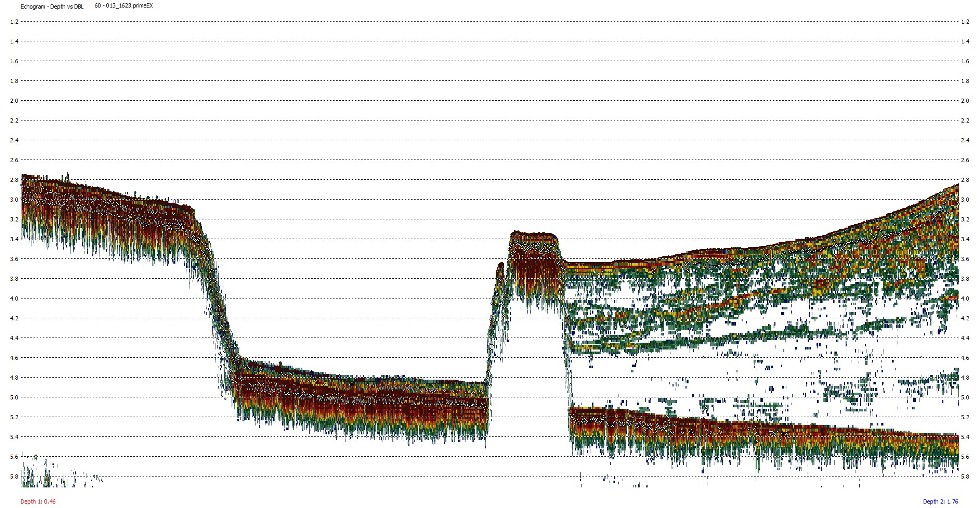 With the CEESCOPE™, the surveyor can simply get on with the job of collecting accurate bathymetry. The ultimate CEESCOPE™ package includes an RTK GNSS receiver and Satel UHF radio modem, all in a compact portable one-box package. Connection to a local base station is possible without the need for any additional hardware in the field, minimizing the setup time, eliminating radios, cables and batteries. Just turn on and start surveying!
All of the CEESCOPE™ functions may be accessed through an LCD touch screen, and CEE CONNECT control software utility, making the unit setup and configuration easy. For surveying when a laptop is not desired, such as on a personal watercraft, the internal memory or an external USB flash drive can be used to record the entire survey – including the full water column echogram.

The CEESCOPE™ can be specified with the latest OEM GNSS options from NovAtel, Hemisphere GPS, and Trimble to ensure all accuracy requirements are met. For surveying at the submeter level, a range of receiver options provide 0.1 – 0.5m accuracy, with optional L-Band corrections for survey locations without SBAS service. RTK positioning is available for users requiring cm-level accuracy or GNSS elevation (tide) data. The use of 1 pulse per second (PPS) timing from the on-board GNSS receiver offers precise time stamping for the complete dataset collected by the CEESCOPE™. This ensures all soundings taken between GNSS location updates are accurately positioned.
Watch the mobilisation of a Jon boat with the CEESCOPE™ RTK echo sounder system. Simply connect the transducer, GNSS antenna, and laptop and start surveying.
Watch this comparison showing what you see when using the CEE ECHO™ or CEESCOPE™ compared to a basic "black box" echo sounder. Avoid reporting inaccurate soundings with the exceptional detail and quality control of the CEE echo sounders.
FIELD APPLICATION VIDEOS:
Kayak surveying with CEESCOPE RTK data logging and local Trimble R10 base station UHF link.
Small boat surveying in the Maldives for dredging projects.
Watch HYPACK® data acquisition and simultaneous GoPro footage in an extremely shallow water environment. The CEESCOPE™ and CEE ECHO™ retain excellent bottom tracking, here in 200 kHz operation with a 9 degree transducer. The data display shows the depth with DRAFT added. The echogram shows the RAW depth data (below transducer).
Watch HYPACK® data acquisition during mapping of plant coverage. With the echo sounder detecting the top of the canopy in real time, and the true bottom clearly visible on the echogram trace, the two depth results may be used to determine plant extent and height. The underwater GoPro footage provides perfect ground truth for vegetation effects on survey data.

The non-RTK CEESCOPE™ GNSS positioning solutions are based on the Hemisphere Phantom OEM receiver that can utilize Atlas L-Band corrections. Offering worldwide differential corrections broadcast from L-Band satellites over the equator, the Atlas system offers CEESCOPE™ users various levels of accuracy to suit the geographic location and the survey project requirements. All CEESCOPE™ systems are shipped with the multi constellation, dual frequency A42 antenna allowing users the ability to upgrade their positioning accuracy with no limitation caused by the antenna.
All CEESCOPE™ echo sounders with built-in Phantom GNSS receivers may be configured by the user with any of the accuracy levels available, simply by loading a firmware activation file. So, the most basic CEESCOPE™ can be later upgraded to the highest performing option if necessary. From the factory, CEESCOPE™ echo sounders may be configured as follows:
Option 1: CEESCOPE PHANTOM SBAS
The most basic CEESCOPE™ option has an advanced Phantom OEM GNSS receiver inside, ready to be activated for any of the L-Band services but it is supplied with no activation loaded. This configuration is appropriate for users in regions with free SBAS corrections (eg WAAS, EGNOS) and will allow submeter positioning without the need for any Atlas L-Band signal.
Option 2: CEESCOPE PHANTOM ATLAS-BASIC
The Atlas BASIC upgrade adds key advantages. For a low cost "lifetime" subscription loaded at the CEE HydroSystems factory, the Phantom GNSS receiver is activated to receive L-Band corrections generated from Hemisphere's global network of over 200 reference stations. Even for users in SBAS-enabled regions, the BASIC upgrade will provide better positioning quality through an increased number of satellites available for the solution; the Atlas BASIC L-Band differential corrections can include multi constellation data not available to SBAS systems.
For users in areas with no access to free SBAS signals, such as Africa, South America, Asia, and Australasia the Atlas BASIC provides a great positioning option and avoids the need to otherwise rely on 3m+ autonomous GPS quality. With 0.5m accuracy possible anywhere in the world, Atlas BASIC provides horizontal positioning accuracy adequate for most hydrographic projects. Vertical position data from Atlas BASIC is not accurate enough for incorporation into hydrographic datasets.
Option 3: CEESCOPE PHANTOM ATLAS H-10
A separate time-limited subscription to the Atlas H-10 L-Band correction service activates the multi constellation dual frequency L1/L2 receiver operation, and the Atlas corrections themselves.  The H-10 signal may be activated at the factory for 1 year, 3 years or 5 years of L-Band signal. The user may also later activate these subscriptions, or shorter period subscriptions for single projects.  When fully converged, the H-10 signal will provide accuracy better than 10cm. The Hemisphere Atlas L-Band approach allows the user to minimize capital investment in GNSS equipment, and only pay for required accuracy when needed. With easy subscription ordering and receiver activation procedures, the Atlas system is convenient and budget-friendly.
Using the Atlas L-Band correction service brings the benefits of multi constellation positioning to the CEESCOPE™ surveyor. Even with badly obstructed skies, for example near tree canopy during narrow river surveys, position tracking is solid. However, one drawback with any precision L-Band signal such as H-10 is the time needed to converge on an accurate solution. The GNSS system will need a fairly lengthy period (around 20 minutes) to reach the maximum level of accuracy, however the Atlas BASIC service at a lower accuracy level converges quickly.
| | |
| --- | --- |
| | Learn about the specifications of the CEESCOPE™ with the built-in Hemisphere Phantom L-Band GNSS receiver by downloading the CEE fact sheet. |
| | This Hemisphere / GPS World PowerPoint presentation describes the challenges of single receiver precise positioning and how the Atlas L-Band solution approaches the problem. |
| | If you have wondered what the differences are between Hemisphere's GNSS solutions and inexpensive consumer grade GPS devices, read the short explanation to learn more. |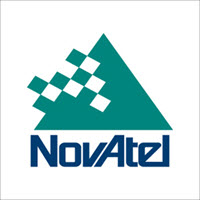 These latest multi frequency NovAtel OEMV7 receiver options offer centimeter-level precision and accurate elevation measurements for recording of "RTK tides". Both options allow internal recording of raw GNSS pseudorange data for post processed precise positioning using Continuously Operating Reference Station (CORS) derived corrections.
NovAtel 729 – Multi frequency 555-channel L1/L2/L5 GNSS receiver with internal RAW data recording to allow post processing to an accurate solution without the need for a local RTK base station. with L-Band corrections for better than 10 cm accuracy with a subscription to the TerraStar corrections service. The L-band option is typically selected where free SBAS or beacon corrections are unavailable and it is not practical or necessary to set up a local RTK base station. Supplied with the NovAtel GPS-702-GGL antenna.
NovAtel 729 RTK – As above with RTK capability, allowing the CEESCOPE™ to connect to a local RTK base station and receive real time kinematic differential corrections for cm-level precision. Typically selected when water surface elevation (tide) is being measured using the satellite positioning system and not traditional (eg tide gauge) methods.
| | |
| --- | --- |
| | Review the NovAtel OEM729 receiver technical specifications. |
For hydrographic surveying within existing Trimble® infrastructure, the CEESCOPE™ RTK-BD990 using the Maxwell™ 7 receiver technology will facilitate trouble-free connectivity with Trimble base station receivers. For users who are keen to maintain equipment consistency and interoperability, the Trimble CEESCOPE™ was developed to fit seamlessly into existing networks.

The BD990 receiver installed inside the CEESCOPE™ features an Ethernet input allowing use of cell phone network corrections (Trimble CenterPoint™ RTX) from an NTRIP caster, and will receive CMRx – and all other –  format RTK corrections from a Trimble base station. The latest generation rugged GA 830 antenna is supplied, although the CEESCOPE™ RTK BD990 may also be ordered without an antenna or firmware activation for dealer supply.
| | |
| --- | --- |
| | CEESCOPE™ RTK BD990 quick facts brochure. |
| | Trimble BD990 OEM receiver board specification sheet. |
All CEESCOPE™ echo sounders with RTK-level GNSS receiver cards also include a built-in SATEL SATELLINE 3AS UHF radio modem to receive RTK corrections. Representing the ultimate convenience for precise surveying, the RTK CEESCOPE™ may be used to provide centimeter level results with no requirement for connection to any ancillary devices – not even an RTK radio – as the ultimate evolution of the "all in one"single beam echo sounder system. Each CEESCOPE™ RTK is supplied with a ground independent Mopole UHF antenna and base, with RF coaxial cable.
Technical specifications:
Frequency range:   402 – 470 MHz
Tuning range:   ± 2 MHz from central freq.
Channel spacing:   12.5 / 20 / 25 kHz fixed
Sensitivity/Carrier power:   -115 dBm / 1 W
Interface:   RS-232, 422, 485
Data speed:  Radio 19200 / RS 38400 bps
| | | | | | |
| --- | --- | --- | --- | --- | --- |
| | | | | | |
| Integrated GNSS receiver | 20 Hz ping rate for high quality survey results | 3200 samples high definition echogram | Dual frequency  capable | Precise 1PPS time-tagged data | Manual control of echo sounder settings |
| | | | | | |
| --- | --- | --- | --- | --- | --- |
| | | | | | |
| LCD touch screen for exceptional ease of use | Internal battery with 8 hours of survey time | Internal data logger for standalone operation | USB file transfer and updates | Waterproof case for ultimate ruggedness | Manual control of echo sounder settings |
For survey locations where a 200 kHz echo sounder may not adequately penetrate down to the bottom, the CEESCOPE™ 33/200 kHz or 24/200 kHz dual frequency upgrade adds a second channel offering greater penetration through water and loose sediment, sludge and silt. Commonly used on dredging-related surveys to distinguish the undisturbed bottom from the resuspended or redeposited material, the low frequency channel provides the added confidence that reported results are consistent with reality. With the dual channel full water column echo envelope displayed in real time and logged on hydrographic software, the dual frequency CEESCOPE™ can display a complex view of the bottom, with the 200 kHz data identifying the soft bottom and the 24 kHz or 33 kHz following the harder bottom surface underneath.
| | |
| --- | --- |
| | Learn how the dual frequency CEESCOPE™ can show detail about the bottom and sub-bottom layers with its high definition echogram output. |
The CEESCOPE™ has several data input / output modes including Network (LAN), RS232 serial (cabled), Wi-Fi (CEESCOPE-R) and Bluetooth. The Bluetooth output may be useful for certain situations, for example when surveying on a kayak or when using a GNSS data collector to acquire bathymetry data. The Bluetooth radio may also be used to receive incoming GNSS position data from an external receiver. This option allows a redundant cable-free operation and may increase user convenience.
| | |
| --- | --- |
| | Learn how to configure the CEESCOPE™ to output and receive data using its built-in Bluetooth radio. |
Learn how the CEESCOPE™ is used in RTK mode to collect a xyz bottom elevation point cloud in local coordinates. Data are logged internally in standalone mode, or output to hydrographic software such as

 HYPACK®,

QPS QINSy, Trimble HYDROPro, or

 Eye4Software Hydromagic.

Learn about the importance of a high echo sounder ping rate and why the CEESCOPE™ has a 20 Hz maximum sample rate.

Learn about the benefits of a full water column echo envelope (echogram) for single beam hydrographic surveying.

Learn about the different transducer types' beam angles and impacts when surveying on slopes or close to structures.

Learn more about RTK corrections formats and how the RTK CEESCOPE may be configured to work with a UHF base station, independent of the manufacturer / brand.

Learn how to use the CEESCOPE™ with cell phone network RTK / VRS corrections using Hydromagic or HYPACK™ (or other) NTRIP clients.

Learn how to import data saved on the CEESCOPE™ or CEE ECHO™ internal memory or USB into HYPACK® or Hydromagic projects.

Learn about the new shallow water ADAPTIVE and MINDEPTH blanking modes for the CEESCOPE™ and CEE ECHO™, and an overview of the blanking distance background theory. Use this information to maximize your data quality and minimize your editing.

Learn about the types of GNSS corrections that can be used with the CEESCOPE™ echo sounder.

Learn about Precise Point Positioning (PPP) GNSS and how these subscription corrections are used with the CEESCOPE™ echo sounder.
CEESCOPE™ 
Physical
Dimensions
30.0 x 25.0 x 13.8 cm (L x W x D)
11.81" x 9.84" x 5.43"
Display
420 x 272 touch screen colour LCD
Weight
3.65 kg (8.05 lbs)
Colour
Pelican Yellow
Connectors
LEMO 1K & 2K series, Industrial RJ45, Industrial USB
Environmental

Operating temperature
0°C - 50°C (32°F - 122°F)
Humidity
95% non condensing
Ingress protection rating
IP67
Power
Power consumption
7.2 watts (approx operating time 8+ hours) - Phantom L1

7.7 watts (approx operating time 8+ hours) - Novatel OEM729 L1/L2 RTK
Internal battery
Rechargeable high capacity NiMH battery 10Ah
Antenna voltage output
5.0 VDC
External power supply
Nominal 12.0 VDC @ 2A (9-30 VDC range)
Power supply
Nominal 5.0 VDC @ 100 mA (5-24 VDC range)
Data Logging
Internal memory
16 GB (32 GB optional)
External memory
16 GB (32 GB optional)
Echosounder
Mode
Automatic and Manual
Frequency
High band: 190 kHz - 210 kHz
Low band: 30 kHz - 36 kHz (optional)
Output power
High: 200 kHz - 172 W RMS max
Low: 24/33 kHz - 172 W RMS max (optional)
Resolution
1 cm
Accuracy
0.01 m +/- 0.1% of depth @ 200 kHz
0.10 m +/- 0.1% of depth @ 33 kHz (optional)
Depth range - 100 Series
0.15 - 200 m (0.5 - 656 ft) @ 200 kHz
Depth range - 200 Series
0.15 - 200 m (0.5 - 656 ft) @ 200 kHz
0.75 - 200 m (2.5 - 656 ft) @ 24/33 kHz
Sound velocity
1350 - 1750 m/s
Resolution 1 m/s
Transducer draft setting
0 - 10 m (1 cm increments)
Index offset
0 - 10 m
Blanking
7 - 500 cm
Ping rate
1-20 Hertz
Pulse length
200 kHz 1-35 cycles
24/33 kHz 1-30 cycles (optional)
TVG
None, LOG 10, LOG 20
Manual gain
30 - 100%
Detection threshold
10 - 50%
External Data Interfaces
GPS input
NMEA 0183
RTCM input
RS-232, UHF or Network
RTCM v3, CMR/CMR+ (RTK)
CRMx (trimble RTK)
Heave input
TSS 1
Tide input
CEETIDE
Baud rate
4800 - 115200
Data bits/parity/stop bits
8/N/1
| | | | | | |
| --- | --- | --- | --- | --- | --- |
| Parameter | General Surveys | Engineering Surveys | Dual Frequency | Dual Frequency | Dual Frequency (USV) |
| Frequency: | 200kHz | 200kHz | 33 / 200 kHz | 24 / 200 kHz | 33 / 200 kHz |
| Beam Width @-3dB: | 9 deg | 3 deg | 19 deg / 8 deg | 20 deg / 5 deg | 26 deg / 9 deg |
| RMS Power | 500 W | 3 kW | 1 kW / 500W | 1.2 kW / 2kW | 500W / 500W |
| Q: | 2 | 6.5 | 7 / 2.3 | 8 / 2.1 | N/A |
| Cable Length | 9 m (30 ft) | 10 m (33 ft) | 11 m (36 ft) | 11 m (36ft) | 11 m (36ft) |
| Weight | 1.3 kg (3 lbs) | 5.5 kg (11.6 lbs) | 9 kg (19.8 lbs) | 11 kg (24lbs) | 3.6 kg (8lbs) |
| Housing Material | Stainless Steel | Stainless Steel | Cast Urethane | Cast Urethane | Cast Urethane |
| Acoustic Window | Urethane | Urethane | Urethane | Urethane | Urethane |
| | | | |
| --- | --- | --- | --- |
| Products | Transducer | Dimensions | Bracket |
| General Surveys | | | |
| Engineering Surveys | | | |
| Dual Frequency 33kHz | | | |
| Dual Frequency 24kHz | | | |
| Dual Frequency USV | | | |
CEESCOPE-R™ WIFI-ENABLED ECHO SOUNDER
For installations on a Personal Watercraft (PWC – Jet Ski) the CEESCOPE-R™ is the ideal solution for a complete data acquisition package. With the minimum number of components and cables, and an innovative flexible design the new CEESCOPE-R™ is able to directly accept motion sensor data, work in multiple precise / RTK positioning modes, and has a WiFi output for convenient data acquisition. The CEESCOPE-R™ makes it easy to transform your own personal watercraft into a hydrographic survey vehicle for shallow water bathymetry.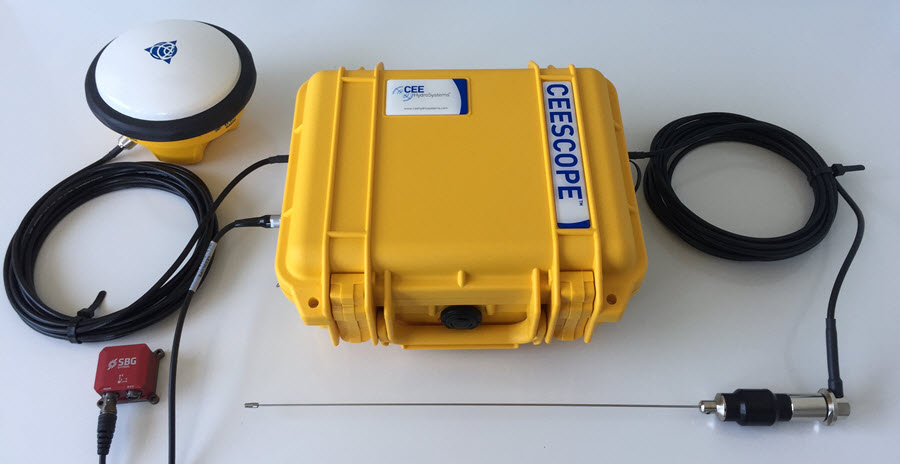 | | |
| --- | --- |
| | Learn how the CEESCOPE-R™ may be used in any situation where Wi-Fi Network connectivity is needed. With a motion sensor interface connected directly to the CEESCOPE-R™, network RTK, UHF RTK, and high-rate raw GNSS recording for post processed precision, the CEESCOPE-R™ is flexible to accommodate all of the common precision GNSS correction methods. The high power Wi-Fi access point included in the CEESCOPE-R™ allows wireless data acquisition up to 1km away. |
– Can I connect an external GPS / GNSS receiver?
Although the CEESCOPE™ has a built-in GNSS, it is possible to feed in position data from a separate receiver. Simply match the CEESCOPE™ input port settings to the external receiver.
– What is the difference when using an external GPS / GNSS receiver?
The CEESCOPE™ combined data output stream is identical, however the time stamping process requires the $GPZDA message to be exported from the external receiver to synchronize the CEESCOPE™ to GPS time. When using the CEESCOPE™ internal GNSS, all timing is set by a more precise 1PPS signal.
– Can I use RTK GPS?
Yes. RTK can be used with the CEESCOPE™ to generate a bottom elevation point cloud in the hydrographic survey software, consistent with the local grid coordinates and vertical datum. This may be with the internal RTK GNSS option or an external RTK receiver.
– Can I connect to an RTK base station?
Yes. The RTK CEESCOPE™ has a UHF radio modem that can be set to connect to your local base station, avoiding the need for any radios on the survey boat.
– Can I use NTRIP / cell phone corrections
Yes. The CEESCOPE™ can accept differential corrections from a cell phone VRS network, using the hydrographic survey software broadcaster for example.
– How long does the battery last?
The rechargeable battery will last 8 hours in operation, although this can be extended by turning off the touch screen display when not required.
– How long does it take to recharge the battery?
The battery will recharge in 4 hours. The battery will NOT recharge unless the unit is powered off.
– Can an external power source be used?
Yes. Any 12-24V supply may be used. –
What is the maximum depth achievable?
CEESCOPE™ 200 – 200m for both 33 kHz and 200 kHz transducers. CEESCOPE™ 100 – 100m for both 33 kHz and 200 kHz transducers.
– Can I use my own existing transducer, eg Odom?
Yes. We can supply patch cables for third party transducers with Amphenol connectors.
– How is the transducer mounted?
The transducers can each be supplied with a matching mount that will fit standard 50mm OD pipe. The transducer cable is passed up the inside of the pipe to prevent damage
– Can I use 24 kHz transducers?
Yes. The CEESCOPE™ is designed for transducers close to 33 kHz or 24 kHz.
– How waterproof is the unit?
A special custom manufactured lid seal is used to ensure water cannot penetrate through the box and the seal will remain intact after years of use. Waterproof rugged LEMO cable connectors are used.
– Do I need an acquisition computer?
No. While the CEESCOPE™ is often used with a  laptop collecting the data in real time, it has internal memory allowing collection of all data with no connected PC. This also serves as a useful backup data log.
– Can I use a hand held data collector, such as Trimble TSC2 or TSC3?
Yes. The Bluetooth data output from the CEESCOPE™ may be accepted by land survey data collectors after pairing the devices. Depth measurements from the CEESCOPE™ may then be stored in a point data file with GPS data.
– How do I take data off the CEESCOPE™?
Inserting a USB flash drive into the USB port will cause data to be automatically copied onto the external USB.
– How do I change the CEESCOPE™ settings?
All the settings are available through the touch screen display with a simple on-screen menu system. A computer is not required to change any of the CEESCOPE™ settings, however the CEESCOPE CONNECT software utility allows settings to be changed through a connected PC.
– Can I change the echo sounder sonar settings?
Yes. The high and low frequency channels can be independently adjusted in terns of pulse width, gain, detection threshold, blanking distance, and maximum depth to follow the desired bottom surface.
– How do I conduct a bar check?
The CEESCOPE™ has a special bar check routine to make it easy to conduct a calibration check. A connected PC is not required to complete this procedure.
– Can I adjust sound velocity (SV)?
Yes. Enter the SV value directly into the CEESCOPE™, or input the temperature and salinity and the SV will be calculated.
– What are the output formats?
The CEESCOPE™ outputs a proprietary output format including GPS position, sounding depths, and a full water column echogram binary packet file in a time-stamped data stream. Other industry standard formats may be selected such as DESO25, Odom SBT / DBT, NMEA0183.
– What software package is required?
The CEESCOPE™ will work with all available hydrographic acquisition packages. The package used must contain a driver for the CEE HydroSystems digital echogram to be able to see the water column envelope. HYPACK® is the most suitable option.
– Where do I mount the transducer?
The transducer ideally should be mounted half way between bow and stern to minimize motion from waves, and should be braced with ropes fore and aft to prevent movement in the water. The minimum draft should be 50cm from the water surface to the transducer face, or slightly above the keel depth.
– What is the typical survey speed?
Usually 4-6kts. Surveying at over 8 kts may cause issues with air bubble entrainment.
– Can I mark points of interest / events?
Yes. The "event" button creates a sequential event number in the data record, associated with the exact position and depth when the button is pressed.
– Can I use the CEESCOPE™ with an ADCP?
Yes. The GPS and/or depth data may be routed to an acoustic Doppler current profiler such as the Teledyne RD Instruments River Ray, River Pro, and Rio Grande to collect simultaneous velocity measurements.