---
The complete data solution for USVs.
CEESCOPE-USV™ is a unique single or dual frequency hydrographic surveying system with GNSS positioning, echo sounding, data recording, and data telemetry in a single compact package for use on remotely-operated or autonomous survey boats.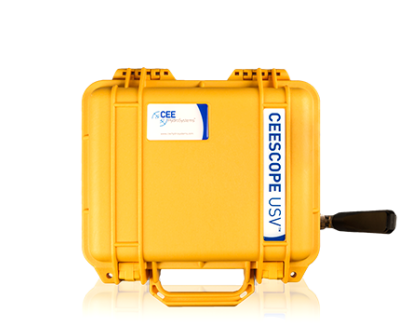 USV (remote) echo sounder module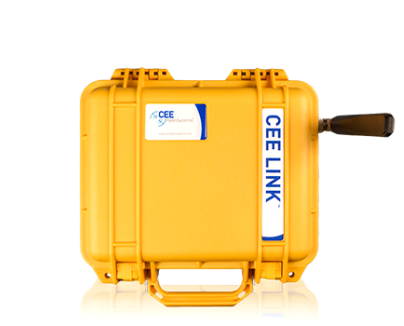 Shore (base) telemetry module

The CEESCOPE-USV™ is a complete single beam hydrographic survey, GNSS and data radio telemetry package that can be installed on practically any Unmanned Surface Vessel (USV) or remote controlled survey boat. As a self-contained system requiring no data interface with the vehicle, USV instrument integration challenges are completely eliminated, and the vehicle design requirements can be simplified, lowering the total system cost. Using real time broadband radio telemetry, the USV operator on shore can view all bathymetry data via the CEE LINK™ radio module, including third party data such as video and side scan imagery.
The system can form the backbone of a remote hydrographic survey capability, with the reassurance that all of the components have already been tested and successfully used on USVs for several years. With rigorous handling of data timing and long range transmission with no interference issues, the echo sounder may be deployed on any vessel – from a surf board to a catamaran raft to a high power monohull.
The CEESCOPE-USV™ may be used interchangeably on a remote vehicle or manned boat. Simply connect the acquisition PC to the CEESCOPE-USV™ directly by LAN cable or WiFi and perform traditional bathymetric surveys. For use on a USV, instead connect the acquisition PC to the CEE LINK™ shore radio module that automatically receives data from the CEESCOPE-USV™ installed on the remote survey vehicle.
SURVEY VEHICLES AND FIELD APPLICATIONS:
| | | | | | |
| --- | --- | --- | --- | --- | --- |
| | | | | | |
| High power WiFi telemetry. 1000m range | Ethernet data / camera input for USV navigation | Internal battery | Internal data logger for standalone operation | Waterproof case for ultimate ruggedness | LCD touch screen for exceptional ease of use |