Hydrographic equipment for remotely-operated survey boats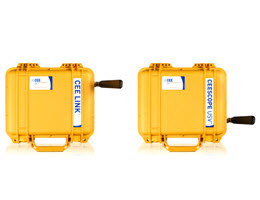 Echo sounder with telemetry
Unmanned Vessel Single Beam Hydrographic Survey Solutions
CEE HydroSystems has been supplying echo sounders for Unmanned Surface Vessels (USVs) since 2011, and we have experience in the design and manufacturing of small inshore remote survey boats and associated instrumentation and data telemetry. Recently, with the introduction of the CEESCOPE-USV™ echo sounder system specifically designed for use on remotely-operated survey boats, CEE HydroSystems can now offer a unique turnkey survey package that is completely independent of the remote vehicle. Prospective USV purchasers may not be tied to the single beam echo sounder or GNSS options offered by the vehicle supplier but can instead choose the next generation approach from CEE HydroSystems. Research groups wishing to construct a custom USV may elect to save time on data management and telemetry equipment installation and integration by simply using the CEESCOPE-USV™ solution.
If a complete turnkey USV is needed, CEE HydroSystems offer the remarkable CEE-USV™ for high grade bathymetric data acquisition. Using the ARC-Boat remotely operated vehicle from HR Wallingford, the CEE-USV™ gives users an extremely rugged, modular, safe, and high-performance boat that leverages all the benefits of the CEESCOPE-USV™ approach. With a dedicated CEE-LINK™ shore radio module, the CEE-USV™ is exceptionally easy to use. Simply turn on the power and start surveying; data are immediately and automatically telemetered to the shore station with the minimum of mobilization time. All of the survey instruments are enclosed in a single removable enclosure for a "next generation" drone hydrographic survey boat solution.
If an OEM data acquisition and telemetry package is needed – for example is a non standard enclosure or a specific vehicle – contact us to discuss how we may be able to help.